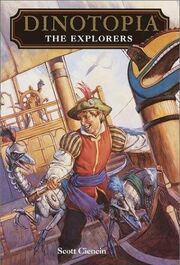 The Explorers is the fourteenth of the Dinotopia Digest novels written by Scott Ciencin.
Synopsis
This text appears to be a blurb. Help Dinotopia Wiki by re-writing this article, to the TOU, in your own words.
Please remove this notice once this page has been re-writen
"Long ago, a group of brave Troodon knights undertook difficult quests to help their fellow Dinotopians. They called themselves the Explorers. When five young descendants of these knights hear the heroic tales of their ancestors, they become inspired to form a brand-new Explorers club. Pointynog the clever, Snicknik the quick, Hardshell the strong, Seeno the stealthy, and Plodnob the jovial say they are ready for any adventure, no matter how dangerous! But the original Explorers club was made up of experienced Troodon knights. Can these junior knights-in-training live up to their ancestors' legend?"
Featured dinosaur species